Rental market – Tony Freeman's top ten property hotspots in the North of England
20th June 2017
With property prices soaring in the South of England, the opportunities for landlords to invest are becoming narrower, with profit margins being squeezed.
Tony Freeman looks at how the North of England has become a hive of investment with landlords seeking out attractive buy to lets across the region.
According to a survey of 100 British towns and cities by Property Partner, property investment marketplace, the ten best buy-to-let locations according to rental yield and return on investment are all in the North. It also revealed the ten worst towns and cities for landlords to invest in rental properties are in the South.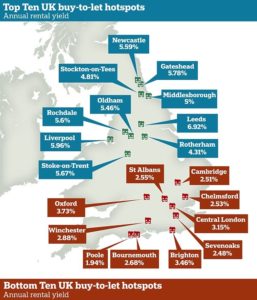 Source: http://www.dailymail.co.uk/money/investing/article-4610762/Stoke-Trent-UK-s-buy-let-sweet-spot.html